Royal Gold
It has been a transformational year for Royal Gold (RGLD), the most popular gold royalty company in this small industry niche. The company has made three very strategic and value adding acquisitions in 2010, vastly boosting its growth profile across the board.
The closing of the Andacollo 75% NSR (though announced at the end of 2009). This adds approximately 40-42k in gold attributable ounces from a proven operator in Tech resources.
Acquisition of the International Royal Company, giving Royal Gold a very diverse revenue stream from two of the premier gold mines in the world, among other assets. This acquisition is highlighted by a 4.23% interest in one of the world's premier gold mines, Pascua-Lama (later increased to 5.23%). This also includes a 2% NSR on all metals recovered from another world class mine in Mexico and Voisey's Bay, a premier copper mine. This acquisition also includes several other operating and development royalties.
Finally, what I consider to be their most lucrative acquisition to date is their 25% interest in the Mt. Milligan project. This will provide Royal Gold with the opportunity to purchase 65,000 oz of gold at 400/oz for the first 6 years, and 50,000 ounces thereafter.
All in all, at $1,400 gold, the combined long term revenue growth increases dramatically both short, medium and long term. This year alone, Royal Gold added nearly 200m in long term revenue. Andacollo with ramp up to nearly full production in 2011; Penasquito has ramped production growth greatly in 2010 and should continue to do so, which should be at full capacity in 2012. Mt. Milligan will then drive growth from 2013 on.
*Note – Due to several other assets included in the IRC acquisition, revenue growth should realistically jump approximately 240m-260m between the aforementioned acquisitions as well as other growth assets such as Canadian Malartic.
Cornerstone Assets: 1) Andacollo 2) Mt. Milligan 3) Pascua-Lama 4) Cortez 5) Canadian Malartic
click to enlarge images
Production Growth Profile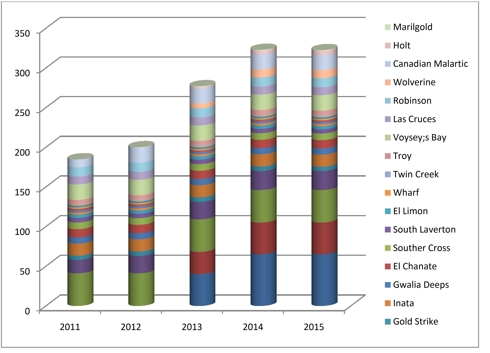 Franco-Nevada's 2010 Transformation
Royal Gold looked to be the clear winner in the fight to become the largest gold royalty company up until year's end, at which time Franco-Nevada (FNNVF.PK) made the biggest acquisition of their storied history, which they were able to complete at bargain prices.
Acquisition of Gold Wheaton (60% equity, 40% cash) for approximately $830 million. If you consider what the average royalty company trades for (20x current years royalties), then Franco-Nevada bought Gold Wheaton at an obscene discount, paying just around 7x royalties. This Gold Wheaton acquisition adds approximately 115,000 – 120,000 @ 400/oz. As opposed to Royal Gold's transformational year, which added medium and long term growth, Franco's purchase of Gold Wheaton gives them a massive increase of immediate cash flow.
Although their 2% on the Tasiast mine may seem miniscule (initially estimated to produce about 700k annually by 2013-2014), production estimates by 2013-2014 production numbers more than doubled to 1.5m ounces annually following Red Back's acquisition. This makes it a medium sized asset, which at $1,400 gold will now add 28-30m in revenue.
Palmarejo Updates – This 50% gold stream that Franco absolutely stole in 2009 is now indicating higher production numbers and mine life following more drilling and exploration in the most recent year.
Cornerstone Assets: 1) SudBury (3 Mines) 2) Goldstrike 3) Palmarejo 4) StillWater 5) MWS Stream 6) Tasiast & Detour
Franco-Nevada Production Growth Profile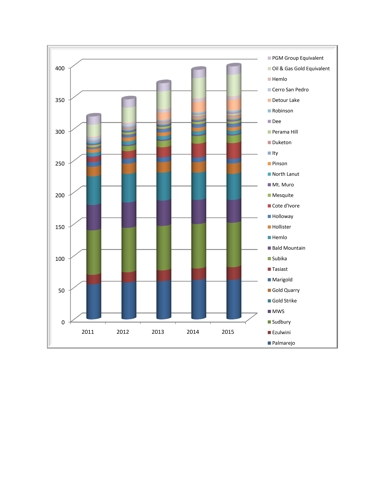 So which company provides more value to investors? Right now, barring any further acquisition, Royal Gold still has the edge, trading at $3.57 in royalties per share as opposed to Franco-Nevada, which will provide $2.86 in royalties per share. This might seem counterintuitive at first, as Royal Gold has a superior growth profile, which by 2013 should produce approximately $5.60 in royalties per share as opposed to Franco, which will produce just over $3.50 in royalties per share by 2013.
Putting this into perspective, we'll apply the average multiple of 20x royalties to the estimated 2011 and 2013 numbers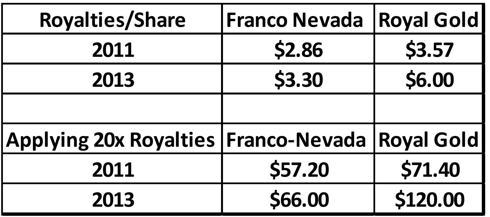 But when all is said and done, it will be the better management that sets their company apart. Based on past success and accomplishments, I would side with Franco, headed by Pierre Lassonde. Franco-Nevada also has more in the arsenal in terms of available capital to further growth, as well as much higher near term OCF (due to the Gold Wheaton Transaction).
Estimated 2011 Revenue:
Royal Gold: 200m
Franco-Nevada – 360m
Though I contend both companies provide tremendous values to shareholders, I think it would be unwise to choose just one to invest in at this point because the total return on invested capital could go either way, again, depending on what management does going forward.
While I think the previously mentioned companies will provide investors with great returns for years to come, I still favor the only pure gold royalty company headed by my favorite manager (Nolan Watson), Sandstorm Resources (SNDXF.PK).
Sandstorm Resources
With the closing of the Ming Mine deal in early 2010, they have since been very aggressive on the acquisition front, notably in the last month as they purchased 2 rather larger (relatively speaking) streams from two operations with excellent upside potential. The latest acquisition also marked their 6th gold purchase agreement in just two years. The following is a rundown of these 6 gold streams.
2010 Transformation
Ming Mine – Attributable ounces to Sandstorm is quite small with this acquisition at approximately 3.2-3.5k ounces for LOM at no cost. This is the first streaming agreement that has not required any ongoing payments per attributable ounce, making it a pure cash flow generator.
Black Fox Mine – In my opinion, this is their best acquisition to date, though they paid up for the right to receive 12% of total Black Fox production (approximately 110,000 ounces in 2011, increasing thereafter). The Black Fox mine has great upside potential and will likely end up producing 130k+ within the next couple of years. Additionally, they also receive 10% of the Black Fox extension which goes into Brigus' Pike River property, which could end up being substantial. Although Brigus has a 50% buyback right for the next couple of years, I see it unlikely they would spend in excess of 35m to reclaim this small amount of gold production given their amazing land package, which would undoubtedly produce a higher return on invested capital.
Bachelor Lake Mine – Another great deal made about one month after their Black Fox gold purchase agreement. It will become their last producing assets barring no further acquisitions, set to come online in 2012. The Bachelor Lake mine will not only provide 12,000 ounces in attributable production to Sandstorm, but there is a high probability for exploration upside. A pre-feasibility study for an underground mine produced amazing results, with more positive news likely to come from more studies in 2011.
When all is said and done, I'm expecting Sandstorm to produce approximately 60,000 ounces by 2013-2014, as opposed to the base case scenario of 53,000 ounces. Sandstorm has claims on various extensions as well and underground mines which apply most to the Black Fox Mines and Aurizona, Sandstorm's two largest projects.
Cornerstone Projects: Aurizona, Black Fox, Bachelor Lake Mine
Sandstorm Production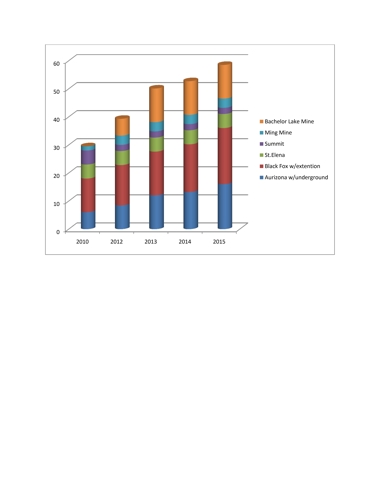 Advantages:
Royal Gold – Long term growth profile, good management, great valuation.
Franco-Nevada – Higher cash flow in 2011, augmenting their capital available to further growth. Beneficial tax structure.
Sandstorm – Good valuation, growth profile, aggressive management, good eye for exploration upside, income tax – not applicable.
Disadvantages:
Royal Gold – Less available capital relative to their main competitor, barring share dilution and disadvantageous tax structure.
Franco-Nevada – Lack of long term growth, valuation not as attractive as the other two.
Sandstorm – Although they will be generating OCF, another equity dilution is likely.
The Winners:
1) Sandstorm
2) Royal Gold
3) Franco – A close third
The original article is published at http://www.c2ads.net/full-text-rss/makefulltextfeed.php?url=http://seekingalpha.com/sector/gold-precious.xml&format=rss&submit=Create+Feed
Looking for a precious metals provider that sells gold coins and bullion (including junk silver)? Click here to visit our favorite provider (FREE SHIPPING!).