Dundee's 43 Juniors Return 71% for 2010
Canadian Dundee Capital Markets (Dundee) have just issued a very important report for investors in Junior mining stocks, their annual report on Junior mining and their "2011 Mineral Exploration Stock Watch List." Dundee is the investment bank arm of DundeeWealth that was just acquired by Scotiabank, Canada's third largest bank on February 1st, 2011. Muchas gracias to noted South American mining blogger Otto Rock for providing the link to this report. Here is the important part of the introduction to this incredibly detailed 140 page report:
The small cap mineral explorers and developers that we track in our weekly Watchlist followed up 2009's turnaround with another solid performance in 2010. Overall, the companies we included in last year's version of the "Focus on the Juniors" returned an average of 71% from February 2010 to February 2011, a little less than the previous year's return of 106%, but handily beating the S&P/TSX Capped Diversified Mining and Metal Index (up 51%) and Global Gold Index (higher by 21%). Similar themes seemed to be at work in 2010 as in 2009 – higher metal prices, promising exploration results, M&A activity, and increased risk capital that seemed to be including more and more generalist investors as most of the world emerged from the recession.
Can you believe that, their list of 43 selected Junior companies returned an average of 71% for the previous year? This is not just one stock's return, but the average of a large listing of stocks. The listing may be comparable to a small index, and that is what Dundee does, compares it to both the S&P/TSX Diversified Mining and Metals and Global Gold indices and the returns beats both. How does that remarkable performance compare to your mutual fund and/or your portfolio returns?
This report got the author to thinking that this surprising annual return just blows out of the water, the prevailing idea that small mining stocks carry a huge risk. Any stock investing carries a huge risk, it is the application of good research that mitigates some of that risk. These Dundee analysts that compile this report must be worth their salt, due to their exceptional results.
The contents of this report carries good background on world mining trends in general and the performances of each sub-sectors in this industry. The precious metals, base metals and uranium sectors are examined.
The key drivers of share value for the mining Juniors was found to include the following factors:
New discoveries.

Low share counts.

Solid management.

Project advancement.

Reserve/Resource expansion.

Future production/or takeout

.
Following are some important findings elaborated upon in this report:
Investment demand, inflationary pressures and political unrest expected to drive Gold and Silver higher in 2011.

B

ase metal momentum continues in 2011.

Uranium prices rose 40% and 5% in the Spot and Term markets in 2010.

Share prices continue to reflect commodity prices, with the explorers and developers posting the highest gains.

Exploration expenditures rebounded in 2010.

Equity financings declined in 2010 but debt increased.

Large companies must follow explorers for access to new reserves.
The author notes that the finding #4 of explorers and developers posting the highest gains, may be of vital interest to investors looking for higher returns. How can an investor profit from this finding?
Dundee's salty analysts have already vetted these Juniors and found them worthy of inclusion in their "Watch List." Their reasoned research is what makes this listing of mining Juniors so valuable; the investor may use their research as a starting point for their own evaluation prior to investment.
As for finding #7, the acquisitions of some Juniors in 2010 are reviewed. In the iron ore space Cliff Natural Resources (CLF) has taken over iron ore producer Consolidated Thompson. ArcelorMittal (MT) has taken over Baffinland Iron Mines.
In the copper space Inmet Mining (IEMMF.PK), Equinox Minerals (EQXMF.PK) and BHP Billiton (BHP) are still battling on taking over Lundin Mining (LUNMF.PK). First Quantum Minerals (FQVLF.PK) has taken over Antares. Hudbay Minerals (HBM) has taken over Norsemont Mining.
In the Gold space Newmont Mining (NEM) have announced a takeover of Fronteer Development (FRG). Ventana Gold (VENGF.PK) is still being negotiated for by Brazilian billionaire Eike Batista.
Onto the meat of this report: there are two pages of research devoted to each mining company on Dundee's list. Following was the member companies in the 2010 listing: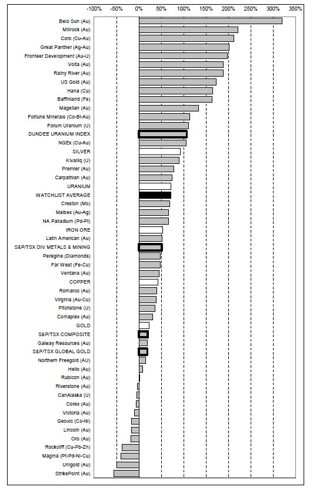 (Click to enlarge)
Figure 1: 2010 Performance of Dundee's Selected Junior Mining Stocks
Following are the changes to the 2010 listing making a new 2011 listing: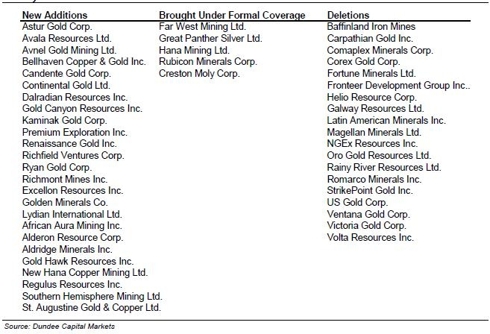 (Click to enlarge)
Figure 2: Additions and Deletions to 2010 making a 2011 listing.
Of note in this list is the addition of Continental Gold (CGOOF.PK) which is sitting on a major gold find in Columbia. In fact they are a prime factor in the present Columbian gold rush.
The author also found an interesting tiny gold miner in this list, that of Avnel Gold Mining Ltd (AVNZF.PK) to invest in. Avnel is a Junior gold miner operating in the African country of Mali, with the government as their 20% partner. Their project, Kalana, in the West African Gold Belt, presently produces 20,000 ounces of Gold per year from a resource base of about 1 million ounces that grades 6 g. Au/ton. The gold major IAMGOLD (IAG) is jointed ventured with Avnel to expand the resource with the proposed drilling of 35,000 meters in 2011. They are examining the feasibility of an open pit mine at Kalana.
The author hopes that this miner invested in, will be on the top end of the Dundee listings for 2011 results.
Disclosure: The author is long base and precious metals miners. I am long Avnel Gold Mining.
Important Disclaimer: The information and opinions contained within this document reflect the personal views of the author and should be viewed as food for thought and amusement only. The author may from time to time have a position in any of the securities mentioned. There are no guarantees of the accuracy, reliability or completeness of the information contained herein. Independent due diligence and discussions with one's own investment and business advisor is strongly recommended. These writings are not to be construed as an offer or solicitation with respect to the purchase or sale of any security or as an endorsement of any product or service. We do not request or receive compensation in any form in order to feature companies in this publication. It is prohibited to copy or redistribute this document to any type of third party without the express permission of the author. This document may be quoted, in context, provided proper credit is given.
The original article is published at http://www.c2ads.net/full-text-rss/makefulltextfeed.php?url=http://seekingalpha.com/sector/gold-precious.xml&format=rss&submit=Create+Feed
Looking for a precious metals provider that sells gold coins and bullion (including junk silver)? Click here to visit our favorite provider (FREE SHIPPING!).