Markets have recovered somewhat from the recent sharp sell offs despite the worsening nuclear situation in Japan. Gold and silver have made very tentative gains from the falls seen yesterday as commodity and equity markets (and the Nikkei in particular) have stabilised somewhat after the recent sharp falls.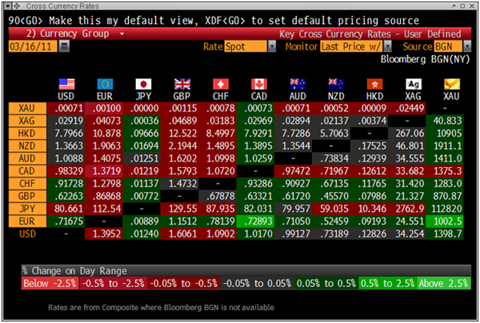 (Click to enlarge)
Precious metals experienced margin-related selling yesterday as traders on the COMEX liquidated contracts. This again shows gold's benefit as an important source of liquidity to financial markets in a crisis.
Today could see further selling on the COMEX, but physical demand for bullion remains robust with continuing safe haven demand due to geopolitical, macroeconomic and now real environmental concerns.
While gold and silver fell by more than 2% and 4% respectively yesterday, physical demand remains very robust – particularly in Asia. Premiums on gold bars in Shanghai were quoted at $5.43 over spot yesterday and Indian ex duty bullion bar premiums were $5.16 (London AM fix) and $4.08 (London AM fix). In Vietnam gold traded at $33.08 premium to world gold.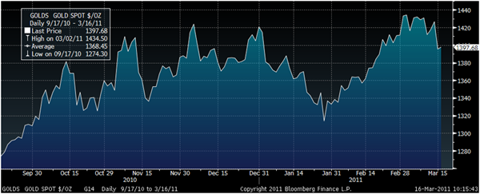 (Click to enlarge)
While Singapore spot prices remained at $1.00 over world gold, one dealer told Reuters that "supplies are still limited". In Hong Kong, premiums for gold bars were offered in a wide range from 90 cents over spot London prices to as high as $1.70. Reuters comments that this is "reflecting an illiquid market."
Premiums on silver eagles (1 ounce) in the wholesale market have been rising gradually in recent days which suggests that the surge in demand seen for silver bullion coins (partly due to Max Keiser's 'buy silver' campaign) continues and may be leading to a less liquid market for silver bullion coins.
Japan is struggling to avert a full blown nuclear meltdown and it is highly imprudent to suggest that there will not be serious economic ramifications from the tragedy.
It is already leading to further currency debasement with the Japanese having injected trillions of yen into markets in recent days and further damaging their already precarious national balance sheet. Japan doubled an asset-purchase program to 10 trillion yen ($124 billion) on March 14.
The Bank of Japan added 5 trillion yen ($62 billion) to the system again today after pouring in a record 15 trillion yen on March 14 and 8 trillion yen yesterday in one-day funding. That comes to some $360 billion in the last 3 days.
It seems almost certain that Japanese investors and institutions will sell a large quantity of their U.S. Treasuries (nearly $900 billion) which will lead to higher U.S. interest rates. The last thing the over indebted, fragile US economy can handle. This may explain the dollar's recent sickly performance and failure to make any gains in recent days despite market panic.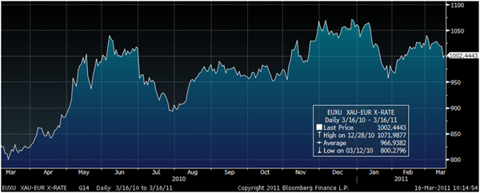 (Click to enlarge)
Concerns of contagion in Eurozone debt markets are now rightly being superseded by concerns of nuclear contagion in Japan. However, Portugal's downgrade and Ireland's 10-year government debt hovering over 9.5% strongly suggests that the worst is far from over in the eurozone debt crisis which should lead to higher gold in euro terms in the coming months.
Gold
Gold is trading at $1,400.11/oz, €1,004.67/oz and £871.58/oz.
Silver
Silver is trading at $34.38/oz, €24.67/oz and £21.40/oz.
Platinum Group Metals
Platinum is trading at $1,709/oz, palladium at $705/oz and rhodium at $2,350/oz.
Disclosure: I have no positions in any stocks mentioned, and no plans to initiate any positions within the next 72 hours.
The original article is published at http://seekingalpha.com
Looking for a precious metals provider that sells gold coins and bullion (including junk silver)? Click here to visit our favorite provider (FREE SHIPPING!).