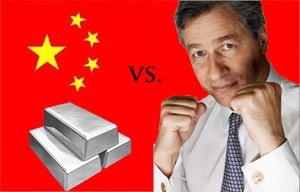 Gold is down 6%, and silver 12%, since the start of 2011. This is the sharpest decline in precious metals since June of last year and with technical support broken at the 50-day moving averages, many are concerned of a deeper correction ahead. While there are a myriad of factors driving the prices, two of the major opposing forces are Chinese demand for physical gold on the long side and JPMorgan (JPM) paper schemes on the short side. Which force prevails in the short term remains to be seen, but in the long run, the paper shorts will eventually be squeezed, pushing the price for both gold and silver much higher.
Corrections are a healthy and normal part of any secular bull market, allowing the bull to rest its legs, shake out weak hands and prepare for the next phase up. Every correction in precious metals over the past decade has brought so-called "experts" out of the woodwork to proclaim an end to the gold bull market. They were wrong when gold hit $500, $800, $1,000 and will be wrong many times again before gold finally does peak somewhere above $5,000 per ounce.
But the recent slide in gold and silver prices seems like more than the usual correction and profit taking. Congress passed the Dodd-Frank Wall Street Reform and Consumer Protection Act during July of 2010 and many metals analysts believed it would lead to the CFTC implementing sensible position limits. In addition, the passing of the Volcker rule and closing of prop trading desks seemed to jump start precious metals into an impressive and steady advance. Many gold bugs believed they were witnessing the end of the fraudulent gold and silver manipulation that has been occurring so blatantly over the past several years. This manipulation has been painstakingly exposed by GATA over the years, was detailed in an earlier article that I published, and has led to a series of lawsuits against JPMorgan and others.
Gold and silver posted impressive gains in 2010, with gold up 30%, while silver rocketed more than 80% higher. But these advances came to an abrupt halt at the start of 2011 and the decline worsened a few weeks later when the CFTC announced the details of it proposed position limits. First off, the proposed limits were way too high to curb manipulation and more importantly, JPMorgan, HSBC (HBC) and other large investment banks were granted an exemption to the new position limit rules by being "grandfathered." The CFTC absolutely caved to the interests of JPMorgan and the price of gold and silver both proceeded to tank and drop through key levels of support.
To what degree the CFTC decision is driving the decline in precious metals is unclear. Gene Arensberg recently pointed out that the large commercial banks have actually been covering their short positions lately and that the swap dealers are the ones that have been uncharacteristically piling on the paper shorts (full story). Regardless, big money has certainly been helping to push prices lower, even as the dollar has weakened significantly in the past few weeks.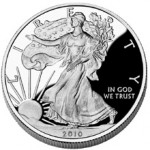 While the paper market has been driving the spot price lower, the physical market appears to be as robust as ever. Sales of silver eagle coins for the month of January have already set a new all-time record, with ten days still left in the month. Furthermore, silver demand in China has quadrupled versus last year, as the emerging Chinese middle class looks for a hedge against inflation and the Chinese government encourages its citizens to buy gold and silver. This is a relatively new phenomenon in Chinese culture, as ownership of precious metals was illegal just a few short years back. But this has all changed as China has become the largest producer of gold in the world and is expected to surpass India as the largest consumer of gold as well.
Demand from China is not only coming from the citizens though, as the Chinese government has been accumulating massive amounts of gold and silver for their reserves. After not reporting gold reserves for six years, the Chinese government in 2009 made a surprise announcement that they had nearly doubled their gold reserves to over 1,000 tons. They have been doing this quietly via buying up the production from Chinese mining companies, as well as making purchases in the open market via intermediaries.
China announced annual gold production of 314 tons in 2010 and this number is expected to be around 320 tons in 2011. If the suspicion that China is buying up most of the country's gold production is true, there could well be another 600 tons or more moved into 'unofficial' reserves before the next announcement. Add in purchases in the international market, and it is conceivable that China's reserves could effectively be doubled again by the end of 2011 to some 2,000 tons.
In December, central bank adviser Xia Bin publicly commented that China should consider adding to its gold reserves and diversifying away from dollars as a long-term strategy to pave the way for the yuan's internationalization. With $2.7 trillion in foreign-exchange reserves, even a small portion of this going into gold could send prices skyward. All of this is extremely supportive to the gold price and could explain why the dips in the past year have been so shallow.
Furthermore, the World Gold Council has stated that China could exhaust its gold reserves in the next six years, as demand is expected to double while production slows. If China has to go into the open market for a greater percentage of their gold needs, the robust gains we have seen in the past few years could suddenly look insignificant.
But China is not alone in their moves to aggressively increase gold reserves. Russia, India, Saudi Arabia, Dubai and central banks around the world are buying up as much gold as they can. Russia increased reserves by 169 tons and Saudi Arabia casually announced in 2010 that it had made 'an accounting adjustment' that upwardly revised their gold reserves from 143 tons to 343 tons, more than doubling the previous estimate.
So with robust physical demand from both citizens and governments around the world, the current correction should be short-lived, absent increased meddling from Wall Street banks. And even with increased meddling, there will come a time when the real buyers overwhelm the paper game and force a massive short squeeze and/or default on the rigged exchanges. The disconnect between the paper and physical market in precious metals appears to be deepening as premiums are increasing and silver is now in both short-term and long-term backwardation.
If you still aren't convinced about the shortages and illiquidity in the silver market, consider that BullionVault.com announced last week that it has run out of silver due to high demand. Furthermore, it took Sprott Asset Management over two months to take delivery of the 22 million ounces of silver they ordered for the Sprott Physical Silver Trust (PSLV).
The original article is published at http://www.c2ads.net/full-text-rss/makefulltextfeed.php?url=http://seekingalpha.com/sector/gold-precious.xml&format=rss&submit=Create+Feed
Looking for a precious metals provider that sells gold coins and bullion (including junk silver)? Click here to visit our favorite provider (FREE SHIPPING!).