This essay is based on the Market Alert sent/posted on January 18th, 2011
Many gold and silver Investors are now confused and worried about their long-term holdings because many analysts are talking about this being a long and deep correction. Therefore, it's natural for one to wonder if it looks like the long-term gold and silver holdings are threatened.
The situation is tense because mining stocks are very close to their 2008 highs (XAU Index is slightly below the 2008 high and HUI is right at it), and this is the most important technical development that we see right now. Mining stocks often move along with metals, so it is likely that whichever way mining stocks move from here will be the direction also for the next move in gold and silver.
It's important to become neither greedy nor scared of the market at any point, and situations this are particularly tricky. Consequently, let's stick to the facts, and then analyze the situation and estimate what is the most appropriate strategy.
Therefore, let's take a look at the charts featuring key mining stock indices: XAU (XAU) and HUI (HUI). They both provide us with the similar information, and thus the importance of the signals is even bigger.
On the chart below, we clearly can see that mining stocks are very close to a very strong support level – the abovementioned 2008 highs (charts courtesy by http://stockcharts.com).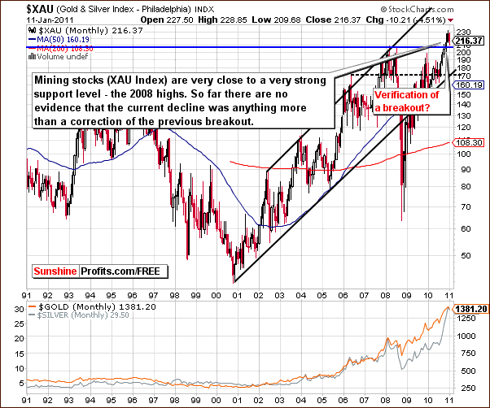 The XAU Index clearly illustrates that the 2008 highs are being verified. Since we created the above chart prices of mining stocks have declined and are currently slightly below this key support level. Up to the very recent price declines, the price action seen above appeared as a simple correction of the previous breakout and a part of the verification process.
However, based on what we've seen recently – a quick move below the 2008 highs – we may need to take a serious breakdown in a consideration as well.
The comparable situation can be seen in the HUI Index (gold stocks) as well. Please take a look below for details.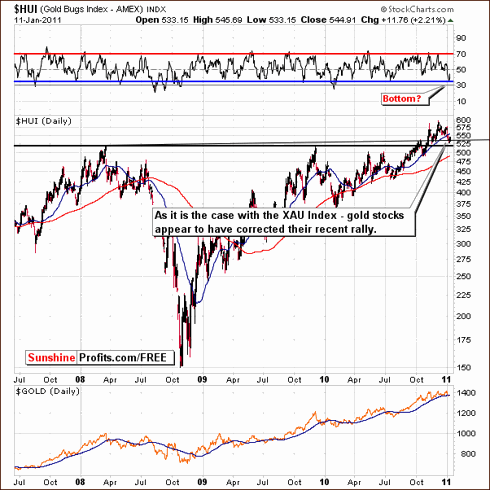 In the HUI Gold Bugs Index chart, we have also seen only a verification of a previous breakout up to the very recent downswing that took the index below 520. At that time, there was no evidence justifying a medium-term bearish sentiment. Although the index level had previously declined below the first of the two important support levels, it has quickly moved back above this level and the move below it appeared to had simply been a form of correction of the previous rally. Finally, RSI appeared to had bottomed. The outlook appeared slightly bullish.
Things changed when gold, silver and mining stocks moved lower – and the latter moved decisively below the first support level marked above (with the thin, slightly rising line). The decline stopped at the lower support level – at the 2008 high, however the abovementioned temporary breakdown in the XAU Index makes the whole situation uncertain.
Can we have a bigger decline from here? Yes. Gold, mining stocks, and especially, silver moved higher significantly and a correction – even a sharp one – would not invalidate the whole bull market, and thus would be somewhat in tune with long-term positive fundamentals. In other words – positive fundamentals do not invalidate the possibility that a correction may take place.
Can we see another huge rally from here? Yes. Precious metals have been correcting for more than a month and are not short-term overbought at this point. Which of the above outcomes is more probable? The bullish case is slightly more probable, because – after all – this is a secular bull market, and the previous real-inflation-adjusted high for gold (over $6,000) is not even close to where gold is today.
Summing up, we believe that the situation is currently not bearish enough to justify getting out of the precious metals with one's long-term investments. Given favorable fundamentals, the risk is to be out of the market, not to be in it.
Disclosure: I have no positions in any stocks mentioned, and no plans to initiate any positions within the next 72 hours.
The original article is published at http://www.c2ads.net/full-text-rss/makefulltextfeed.php?url=http://seekingalpha.com/sector/gold-precious.xml&format=rss&submit=Create+Feed
Looking for a precious metals provider that sells gold coins and bullion (including junk silver)? Click here to visit our favorite provider (FREE SHIPPING!).