With the indications of a new Bull run for precious metals starting, it is time to examine the Gold miners to see which ones may offer the best opportunities. This author has not been a fan of the large Gold companies recently and has been particularly critical of Goldcorp (GG) after last year's purchase of Andean Resources. However, it seems that there may be a recent market anomaly involving the glamour boy – Goldcorp – that readers may be interested in. The situation may offer a way to profit from Goldcorp in the current run of the Gold bull.
Goldcorp Status
In the chart following, the black trace is Goldcorp's (GG) share price since September 2010, and the green trace are Goldcorp's warrants with a strike price of $45.75 that will expire June 9, 2011.
(Click to enlarge)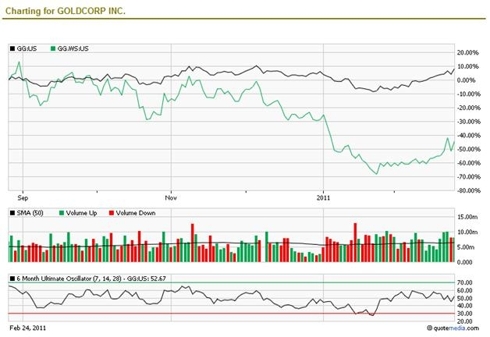 Note that Goldcorp's share price has not moved a lot in the recent run of the Gold bull from September 2010. In fact it appears that Goldcorp's price was bound in a trading range from -10% to +10% over this time span while the Gold price was moving higher. Then, in examining the green trace for the warrants, they appear to have done even worse, wilting in price, even before the Gold price correction that began at the beginning of January of 2011.
Goldcorp Comparison in Big Three Golds
Is Goldcorp really that bad a company? In a word – No, of course not. Goldcorp is the second largest Gold miner in the world by market capitalization. Goldcorp is one of the trio of the three of the most well known and largest Gold miners in the world, which also includes Barrick Gold (ABX) and Newmont Mining (NEM).
Barrick is the leader with a market cap of $51 billion, having mined 8 million ounces of the Gold in 2010. Seeking Alpha contributor David Urban, analyzes the recent Barrick results:
Once looked at as a high cost, hedged producer with difficulty in replacing reserves, Barrick has transformed itself over the few years. Production for 2011 will likely be flat but gains are coming as new, massive mines come online. While there are still concerns surrounding the buildout of new mines, Barrick is a stock investors should consider on a potential breakout.
Barrick has bought back its massive Gold hedges in 2009 and spun out its troublesome African Gold assets into African Barrick in 2010 in a bid to clean up its act for investors. Note that Barrick has not increased Gold reserves for 2010.
Newmont is in third place with a $27 billion cap and production of 5.4 million ounces in 2010. Newmont is struggling with lower grades at its duo massive Yanacocha Peruvian mine and Bottington Australian mine. Again, David Urban summarizes the outlook for Newmont in 2011:
In terms of 2011 guidance, Newmont guided flat gold production over 2010 with rising costs due to a higher oil price which translates into higher diesel prices. In addition, capex is expected to be in the $2.8 billion range with no significant increase in production expected in the medium term.
Note that Nemont's production for 2011 is expected to decline because of lower grades at their prime large mines.
Though Goldcorp is only in second place in size with a $37 billion cap and has mined only 2.4 million ounces in 2010, it is a far more glamorous stock in David Urban's view:
Earnings are rising significantly and operating cash flow is beginning to spike with the company taking advantage of low cash costs and rising gold prices.

Production is expected to rise by almost 70% in the next 5 years and the balance sheet is strong with $2 billion in cash and marketable securities and investments as of September 30, 2010.
In the author's opinion, Goldcorp will be the investor's choice among the three major Gold stocks. It is not about existing production, but about its quality of high grade assets providing the high margins of $1214 per Gold ounce (byproduct credits) that Goldcorp reported in the 4th quarter of 2010. It is about increasing its reserves by 23% with high quality assets. Note that Goldcorp has divested in 2010 its stakes in Osisko (sub 1g Au/ton) and Terrane Metals (low grade Cu/Mo/Ag porphyry), while paying a premium for high grade in Andean Resources (8-12 g Au/ton). It is about the projected startup of their low cost/high grade Eleonore Mine (12g Au/ton) in Quebec, and Cochenour Mine at Red Lake, Ontario, both slated for 2014.
Leverage the Glamor Boy Goldcorp
If this analysis is correct about investor appeal for glamorous Goldcorp, then its shares should rise. As indicated above, the Goldcorp warrants have declined this winter, giving much more value to the possible upside in Goldcorp's shares.
Presently the Goldcorp warrants (GG.ws, TSX: G.wt.g) that expire on June 9th, 2011, are trading in about the $3 range. There are about 8 million of these warrants. The exercise price is $45.75 Cdn while the shares as of Feb 28, 2011, are trading at about $46. Therefore the warrants are just in the money, and should move about $1 higher for every $1 gain in the share price. This gives about a 15 times leverage of the warrant to the underlying shares.

This strategy is not without risk, for if the Goldcorp shares fall in price, the warrants could expire worthless.
In the expected "Gold Bull Run" that is just resuming, Goldcorp may be the best bet of the 3 largest Gold miners. The Goldcorp warrants will help leverage the investor's dollars in this glamorous Gold miner.
Disclaimer: The information and opinions contained within this document reflect the personal views of the author and should be viewed as food for thought and amusement only. The author may from time to time have a position in any of the securities mentioned. There are no guarantees of the accuracy, reliability or completeness of the information contained herein. Independent due diligence and discussions with one's own investment and business advisor is strongly recommended. These writings are not to be construed as an offer or solicitation with respect to the purchase or sale of any security or as an endorsement of any product or service. We do not request or receive compensation in any form in order to feature companies in this publication. It is prohibited to copy or redistribute this document to any type of third party without the express permission of the author. This document may be quoted, in context, provided proper credit is given.
Disclosure: The author is long Goldcorp warrants.
The original article is published at http://www.c2ads.net/full-text-rss/makefulltextfeed.php?url=http://seekingalpha.com/sector/gold-precious.xml&format=rss&submit=Create+Feed
Looking for a precious metals provider that sells gold coins and bullion (including junk silver)? Click here to visit our favorite provider (FREE SHIPPING!).