We'll kick off with a quick look at the table below, where we can see that some very nice gains were made yesterday, notably, First Majestic Silver Corporation (AG) up 12.52%, Alexco Resource Corporation (AXU) up 9.18% and Endeavour Silver Corporation (EXK) up 7.71%. Many other silver producers also had a good day on the back of a bounce-back by silver prices, which gained $0.78 or 2.91% to close at $27.59/oz.
(Note: Chart below includes the Canadian ticker symbol, (FR), for First Majestic.)
[Click all to enlarge]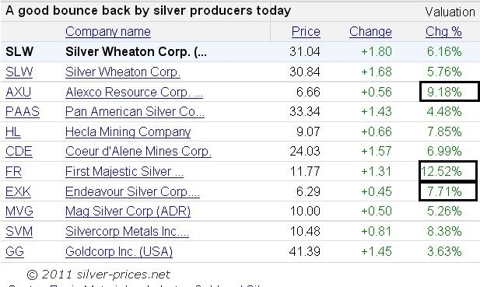 Gold prices also joined in the fun, gaining $13.30/oz or 1% to close at $1345.40/oz. From a bulls standpoint we need to see gold prices hold onto the $1340.00/oz level for the remainder of this week; a close above this level will prepare the ground for the next leg up.
For the bears, a test and the penetration of the $1320.00/oz level will bring the shorters back with a gallop. It's important to keep one eye on gold, as its big brotherly influence on silver prices is alive and well. However, the silver space is tiny and we could push back to $30.00/oz as quickly as we have slid down to these levels.
This pull back has helped in a way to take the froth out of the speculators' chalice and render the technical indicators more favourable to an investor who places great store in the analysis of the charts. One of our irritations was the gap between silver prices and the 200dma, which has now narrowed slightly and become less of a pain to us. Also note the MACD bounced at the 30 level and the STO has turned positive — both from fairly low levels — so there is plenty of room for them to move higher.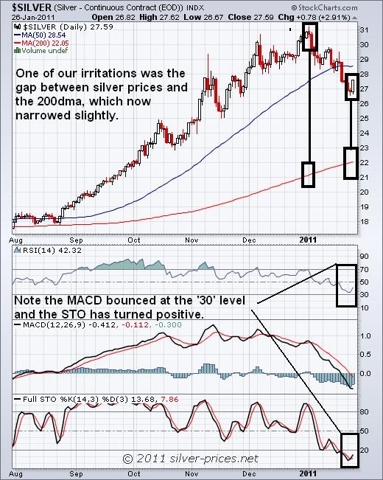 Also note that the U.S. dollar traded lower yesterday, losing 0.19 or 0.24% to close 77.81 on the USD Index. So much for rousing speeches. We will see the occasional rally from the dollar, but overall in 2011 it will sink further and faster than it has to date. This year could be the year that the penny drops with the wider investment community, and paper currencies across the globe will have to front up and explain themselves; "Sorry, we were just partying" doesn't really cut it.
We had a fabulous year in 2010, and it would be wishful thinking to imagine that it could happen again — at least in normal circumstances. These are anything but normal circumstances but it will happen again, so select your partners carefully and prepare to be knocked off your feet.
Shortly we hope to bring you a one-to-one interview with the CEO of a major silver producer, so you will get his views directly in what will be an exclusive for us. It should make a very interesting read, so stay in touch.
Disclosure: I am long SLW, EXK, HL, PAAS.
The original article is published at http://www.c2ads.net/full-text-rss/makefulltextfeed.php?url=http://seekingalpha.com/sector/gold-precious.xml&format=rss&submit=Create+Feed
Looking for a precious metals provider that sells gold coins and bullion (including junk silver)? Click here to visit our favorite provider (FREE SHIPPING!).