As it seems the precious metals markets finished their 2011 New Year's correction on or about January 26, it may be a good time to examine some gold players to determine how well they might perform in the next gold rally.
Conventional wisdom is that gold miners will leverage gold prices. This particular dynamic was examined in a previous posting last fall here. GLD has gained about 30% since January 1, 2010. The GDX large gold miners ETF has also gained about the same percentage, leaving the investing public puzzling about lack of leverage from these miners.
We arbitrarily chose to look at some of the top gold stocks that are part of the 30 stocks in the GDX ETF. Following is the complete listing of the GDX components:
GDX Holdings
| | |
| --- | --- |
| Stock | Symbol |
| Barrick Gold Corp | |
| Goldcorp Inc | |
| Newmont Mining Corp | |
| AngloGold Ashanti Ltd | |
| Kinross Gold Corp | |
| Gold Fields Ltd | |
| Lihir Gold Ltd | |
| Randgold Resources Ltd | |
| Harmony Gold Mining Co Ltd | |
| Agnico-Eagle Mines Ltd | |
| Cia de Minas Buenaventura SA | |
| Yamana Gold Inc | |
| IAMGOLD Corp | |
| Eldorado Gold Corp | |
| Silver Wheaton Corp | |
| Royal Gold Inc | |
| PAN American Silver Corp | |
| Silver Standard Resources Inc | |
| New Gold Inc | |
| Seabridge Gold Inc | |
| Gammon Gold Inc | |
| Aurizon Mines Ltd | |
| Hecla Mining Co | |
| Northgate Minerals Corp | |
| Great Basin Gold Ltd | |
| Golden Star Resources Ltd | |
| Minefinders Corp | |
| Tanzanian Royalty Exploration Corp | |
| Nevsun Resources Ltd | |
| Vista Gold Corp | |
Source: ETF Investment Outlook.
The GDX ETF itself is tradable, along with any of the individual component stocks. The start date for the charts following was January 26, 2011 as aforementioned. The reader is cautioned that looking at this short segment of time only displays the recent performance of the company and is not indicative of how the company had performed for 2010.
[Click all to enlarge]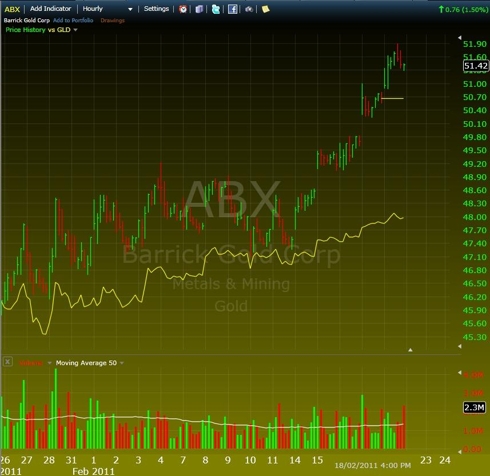 Barrick Gold Corp is showing a beautiful chart and displays a nice leverage to the gold price (using the GLD ETF as proxy). Barrick is the largest gold miner in the world and was astute enough to spin off its African gold assets in African Barrick last year. This left Barrick as a cleaner miner without pesky African issues. Delivering a good earnings report on February 17, 2011, Barrick shares are moving higher. African Barrick has stayed stationary since being floated out in March 2010 due to production issues at its four Tanzanian mines. Barrick's share price has advanced 30% since January 1, 2010.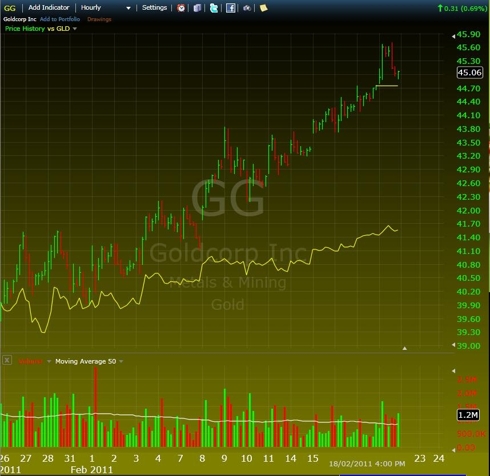 Goldcorp Inc. is in fine form, the stock trace displaying great and increasing leverage to the gold price. Results for 2010 are expected to be released February 24 after market, but the market is already anticipating good news since Goldcorp announced increases in reserves of 23% and resources of 13% on February 9. Goldcorp is now digesting the Andean Resources acquisition completed in December of 2010, and is trumpeting the doubling of its Cerro Negro high grade gold reserves and resources. The author was critical of this acquisition, saying the price was too high in a posting last fall. What this chart does not show is that Goldcorp's share price has been struggling all year. Goldcorp's share price has advanced 17% since January 1, 2010.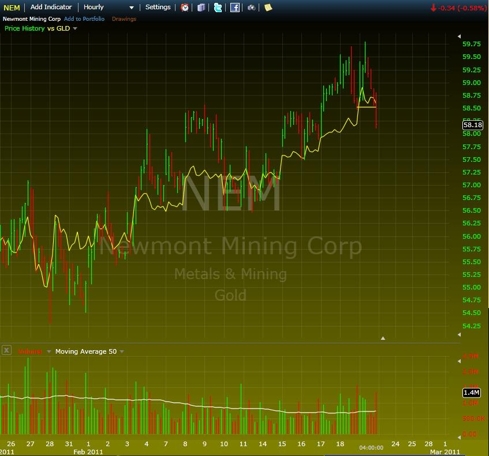 Newmont Mining is somewhat of a laggard among the big three. The Newmont stock trace is bouncing under and over the GLD benchmark. On January 20, 2011, Newmont announced its production results for 2010. Its 2010 production guidance was cut twice in 2010. Its gold production was 5.4 million ounces, which is only a slight increase over 2009. One of the reasons is the declining grades in its share of the Yanachocha mine in Peru. Newmont announced a buy-out of Fronteer Gold (FRG) on February 3, 2011. Newmont's share price has advanced 22% since January 1, 2010. Its year-end conference call is at 10 AM on February 24.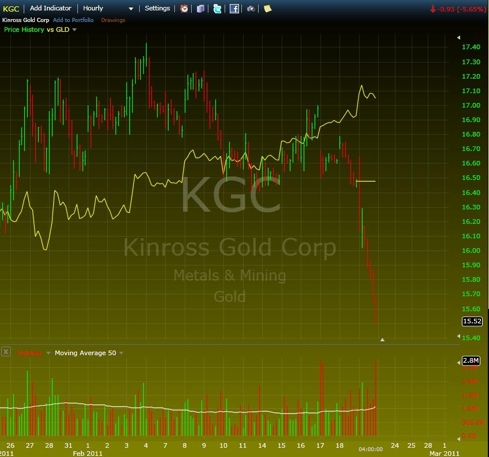 Kinross Gold is declining after releasing its operating results on February 17. Revenue for 2010 grew 25% to $3 billion. Net earnings for 2010 doubled to $770 million. Gold prices increased 23% while margins improved 19%. Do you see an issue here? If the gold price had not increased, the margins would have decreased. Kinross merged with Red Back (RBIFF.PK) this past summer, and the dilution and digestion is showing. The fourth quarter profit dropped from last year's $0.34 to $0.18 a share. Therefore, the market is punishing the stock price. Kinross's share price has declined 15% since January 1, 2010.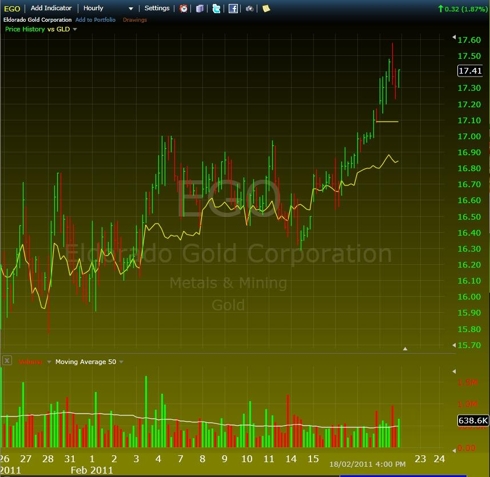 Eldorado Gold Corp.'s share trace was keeping with GLD until it reported results on February 18. The price moved higher as it spun the results as an earnings increase of 31% relative to last year. The share price has been struggling recently due to a lower production level in the fourth quarter relative to the third quarter. Eldorado acquired Sino Gold (SIOGF.PK) in 2009. The net income of $43 million, though 31% higher, works out to 8 cents per share, relative to last year's lower income but spread over fewer shares — which was still 8 cents per share. Eldorado's share price has advanced 20% since January 1, 2010.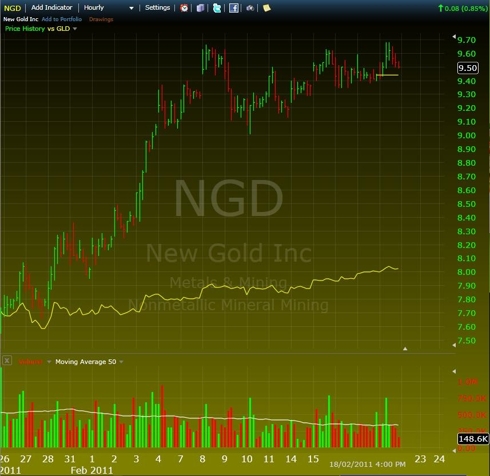 New Gold Inc.'s share price is leveraging the GLD quite spectacularly, and is making the GLD trace actually look flat. New Gold announced its 2010 production numbers of 382,000 ounces on February 2 as beating its previous guidance of 330,000 to 360,000 ounces. New Gold's 2009 production was 300,000 ounces. Its estimate for 2011 is 380,000 to 400,000 ounces. New Gold is expected to hold its conference call for 2010 financial results on March 4. New Gold's share price has advanced 160% since January 1, 2010.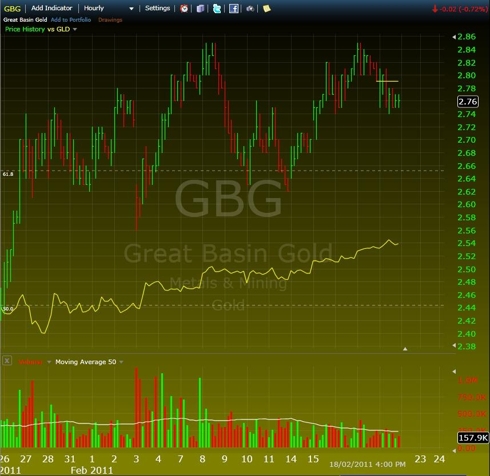 Great Basin Gold has leveraged the GLD since January 26, 2011 and the leverage appears to be increasing. This was on the back of its Q4 announcement of production results on January 19. Great Basin reported production of 31,000 ounces at Hollister during the fourth quarter in comparison to 11,000 ounces in 2009. Also, Great Basin gave some details about trial mining some 500 tons of bonanza grade 15 ounces of gold per ton of ore. Great Basin had previously given an estimate of 5000 tons of this extremely high grade ore. Its second nameplate mine of Burnstone in South Africa is expected to declare commercial production soon. Great Basin will announce its financials after hours on February 23 and will host a conference call at 9 AM on February 24. Great Basin Gold's share price has advanced 60% since January 1, 2010.
Conclusions
What observations and conclusions can we draw from the above review? Well, the GLD has advanced about 30% since January 1, 2010, yet not one of the big four gold miners was able to match that gain. Only New Gold, a mid-tier miner, and Great Basin Gold, an emerging producer, gained more than the 30% gain of the GLD. A previous analysis detailing some difficulties for the large gold miners can be found here.
Note the spectacular performance of New Gold in 2010, with a 160% gain. As seen in its announcements, the gain may be due to its production increase from 300,000 ounces in 2009 to 380,000 ounces in 2010.
Note that Great Basin is an emerging producer, still trial mining at Hollister and about to declare commercial production at Burnstone. It is estimated that Great Basin produced and sold about 100,000 ounces of gold for 2010. It is also estimated that Great Basin will produce from 220,000 to 250,000 ounces of gold for 2011.
Which of the above gold mining candidates is the most likely to give the best performance in 2011, in the next run of the gold bull?
Disclosure: I am long GBG.
Additional disclosure: I am long junior miners.
The original article is published at http://www.c2ads.net/full-text-rss/makefulltextfeed.php?url=http://seekingalpha.com/sector/gold-precious.xml&format=rss&submit=Create+Feed
Looking for a precious metals provider that sells gold coins and bullion (including junk silver)? Click here to visit our favorite provider (FREE SHIPPING!).