Gold, Silver, and many of the precious metals have seen tremendous gains in the past few years and have been the focus of much media and investor attention over the past few months. But after struggling to make, and hold, new highs for over 2 months, it appears that gold and numerous other precious metals, miners, and gold-related plays may be in a peaking process.
I have been a "gold bear" since October 2010. I believe that the arguments made by those buying gold are the exact reasons why gold is in a bubble. As I said in my previous articles, I completely understand the bullish case for gold: It's a "tangible" store of value, it can act as a hedge for currency risk, demand is expected to continue to grow, etc. What I don't agree with, however, is that the current price of gold is justified. Instead, I think that over-speculation, extreme expectations, faulty arguments, and massive publicity make investing in gold (GLD) much riskier than many are willing to accept.
Here's a recap of the arguments for and against gold:
Why gold has soared:

Gold is a store of value.

Gold is a tangible asset.

Gold has limited supply.

Gold acts as a currency hedge.

Gold as an alternative to equities.

Gold is not yet at inflation-adjusted prices.
Why gold is in a bubble:
Rapid price run-up.

"We Buy Gold" everywhere.

Extreme speculation:
a. ETFs make gold investment easier and more accessible, thus increasing speculation.
b. No hedging by the mining companies at the exact time when protecting themselves from declining prices is most important.
c. Gold vending machines!
Inflation or Deflation? People are buying gold out of fear of both inflation and deflation – one of the two must be wrong.
But the gold and gold miners weren't enough, so investors have moved on to other derivative plays on gold – Silver (SLV), Palladium (PAL), platinum, Uranium (URA), copper, Rare Earth Elements (REE), Molycorp (MCP), and the GLTR ETF, just to name a few. These moves by investors are not only evidence of the extreme belief that gold prices will continue to rise, but are also signs of massive risk-taking and a potential expansion of the gold bubble, as investors flock to these stocks and ETFs simply due to the fact that they are related to gold.
And if my opinion isn't enough to convince you, maybe the CEO of Molycorp calling the rare-earth play a bubble will.
Huge publicity may signal the top. If widespread media coverage is a sign of investment saturation and the peak of popularity, Gold may have already peaked. Gold has made the front page of the Wall Street Journal and has been the subject of a popular TV show entitled "Gold Rush: Alaska." As I mentioned in "Is TV Signaling a Top in Gold?", the housing bubble peaked and began its collapse at the exact time that TV shows were portraying the "house-flipping" process to the masses.
Click to enlarge: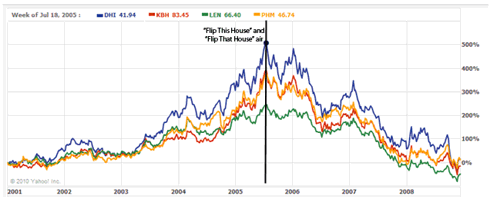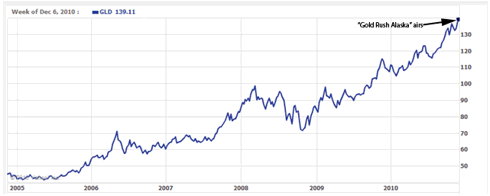 Market up means gold down. I am not yet convinced that the market will continue its uptrend and recovery. But those gold lovers out there must keep in mind that much of gold's run has been due to the uncertainty and the continued threat of a renewed recession. If the market continues to rise and the economy continues to improve, many investors will move back into stocks instead of gold. Much of the incentive to invest in gold will no longer exist. According to this argument, only a market decline should justify buying gold. On the other hand, rapid inflation could justify rising gold prices too. It appears that gold will benefit only from a renewed recession or rapid inflation; anything in the middle supports gold's decline. A recession or inflation isn't out of the picture though.

Nobody willing to bet against gold. Even among those who think gold is a bubble or risky investment, there are very few, if any, people actually willing to bet against it. Though it's generally a very smart move to avoid betting against a stock or investment theme with a lot of momentum behind it, the fact that even gold bears are shying away from betting against it may signal that it is a bubble with extremely high bullish sentiment. If the gold bears are even afraid to bet against it, is there really much room left for gold to run? What happens if these gold bears finally gather the courage to start betting against it?
Ways to play a Gold Bubble:
Short Gold, Long Diamonds. In a previous article ("Forget Gold, Buy Diamonds"), I recommended betting against gold (GLD) or gold miners (GDX) and buying diamond companies like Zales (ZLC). While gold has not made new highs, and has even shown weakness, my diamond plays have skyrocketed. Here's how my bet on Zales performed against gold:
Click to enlarge: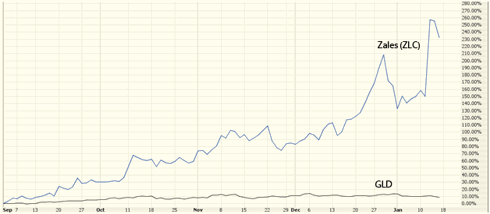 Short Gold (GLD), Gold Miners (GDX), or specific gold mining companies like Newmont (NEM), Barrick Gold (ABX), or Goldcorp (GG). If gold continues to slide, and the support levels discussed above fail to hold, shorting GLD or any of the miners will prove to be a very lucrative bet. If outright shorting gold or the miners is too risky for you, you may want to pair the trade with a long bet on Rio Tinto (RIO) or BHP (BHP).

Buy Puts on Gold (GLD), Gold Miners (GDX), Silver (SLV), Ultra Silver (AGQ), Freeport-McMoRan (FCX), Rare Element Resources (REE), or Molycorp (MCP). With volatility at extremely low levels (as seen in the VIX), the complacency in the market makes buying options very cheap. By placing a small bet against gold or precious metals via option puts, the payouts in case of a gold bubble are tremendous!
For example: for only $1.80 per share, you could buy the July 2011 puts on SLV with a strike price of $26.That means that for a limited risk of $1.80 (or $180 per contract of 100 shares), you own the option on Silver (SLV) for the next 6 months. If SLV drops below $26 (it's at $27.74 now), you have the option to sell your shares of SLV for $26, no matter how far they drop. In other words, you can make a very small bet of $1.80 per share and limit your risk, while still leaving a huge opportunity to profit from a further decline. I don't have the space here to discuss specific options strategies, but buying some GLD, GDX, FCX, or SLV puts now could reap HUGE rewards within six months if the gold bubble does burst.
As we've seen, gold has had a huge run since 2000 and may have formed a bubble. And while many of the reasons for buying gold were warranted and perhaps understandable, they may not have justified such a high price. Instead, due to the ease with which investing in gold and precious metals has become, gold, silver, and many other precious metals may have been vastly inflated and may be setting up for a severe correction.
Over-speculation, market saturation, and near-maximum popularity are warning of a gold bubble. But gold, gold miners, silver, and many other of the precious metals stocks and ETFs are showing technical weakness and deterioration as well. It may be a confirmation of the peak of the bubble and the beginning of its collapse.
For an in-depth look at the CHARTS, please see 'Charts Point to a Precious Metals Bubble.'
Disclosure: I am short GLD, GDX, REE, AGQ.
Additional disclosure: My short positions are through put options. I will look to initiate short positions in SLV, FCX, individual miners, and PALL. I am also long Blue Nile (NILE).
The original article is published at http://www.c2ads.net/full-text-rss/makefulltextfeed.php?url=http://seekingalpha.com/sector/gold-precious.xml&format=rss&submit=Create+Feed
Looking for a precious metals provider that sells gold coins and bullion (including junk silver)? Click here to visit our favorite provider (FREE SHIPPING!).